The mandate of UNAMID's Police component is stipulated in the Security Council resolution 2228 (2015), with its priorities focused on three main tiers. These include the Physical Protection of Civilians (POC), facilitation of the delivery, safety and security of humanitarian personnel, mediation between the Government of Sudan and non-signatory armed movements and the provision of support, in conjunction with the UNCT to the mediation of community conflict including measures to address its root causes.
CORE ELEMENTS
Formed Police Units (FPUs), Individual Police Officers (IPOs) and the police core command/senior leadership group, are the three core elements which provide management and oversight. The FPUs ensure the safety of UN personnel by providing armed escorts for IPOs and civilian personnel. FPUs also support the physical protection of civilians through High-visibility target and interactive patrols in IDP camps. They also provide crowd management and respond to public order situations, including facilitating the delivery of humanitarian assistance.
The work of IPOs focuses on monitoring, mentoring and building the capacity of local government police, and supporting community-oriented policing in Darfur through the building of capacity of Community Policing Volunteers (CPVs) and Community Safety Committees (CSCs) in IDP camps. Through these activities, UNAMID IPOs bridge the gap between the Local Police and IDPs especially in areas where there is deep mistrust between the two.
In terms of the composition of UNAMID components, Police has the highest number of female staff which constitute 23% of its work force. The emphasis on recruiting female IPOs is because they have the main interactive role
with female IDPs, who may have been victims of Sexual & Gender Based Violence (SGBV) and other criminal offences.
STRATEGIC PRIORITIES: 
The Police component has refocused its activities on the following areas: supporting physical protection of civilians and facilitation of humanitarian assistance, creating a protective environment by coordinating police capacity-building and community-oriented policing initiatives, and enhancement of organizational performance and management. These priorities are being implemented through coordination, cooperation and collaboration with stakeholders.
Furthermore, UNAMID's Police component reviewed its activities into seven programmatic areas of focus (justice, forensic services, police/prisons capacity building, children and youth, SGBV, community safety, livelihood and income generating projects) with UNCT. This collaboration is being implemented with stakeholders in the UNAMID – UNCT areas of collaboration.
A coordination mechanism is also being implemented with Rule of Law for 'Promoting Rule of Law and Access to Justice in Sudan Bridging and Inception Project'. This effective coordination will address funding for Police Component's activities in support of rendering services to protect and better serve the security needs of IDPs.
In addition, Joint Projects with ODO on Explosive Ordnance Disposal (EOD) and Explosive Remnants of War (ERW) are also inclusive and being implemented through sensitizations and community outreach to IDPs. UNDP is also collaborating with UNAMID on the rollout of Forensics project in Darfur for the enhancement of investigations and crime scene management capacities of Sudanese police.
PHYSICAL PROTECTION OF CIVILIANS:
UNAMID Police is involved in the physical protection of civilians through 24/7 security patrols. These patrols are conducted in collaboration with military and civilian components in and around IDPs camps and farms, in five sectors with 35 team sites. This activity enables IPOs to interact and gather information for sharing on early warning system. Internally Displaced Persons are also escorted when they go out to fetch firewood or water. All of this is geared to ensure the protection of civilians particularly women and children who are vulnerable from imminent threats of physical violence as they carry out livelihood activities.
FACILITATING HUMANITARIAN ASSISTANCE
UNAMID Police through the FPUs provides escort for humanitarian supplies for IDPs and also protect United Nations personnel and facilities.
COORDINATING POLICE CAPACITY-BUILDING AND COMMUNITY-ORIENTED POLICING
UNAMID Police also works to strengthen relations with the Sudanese Police through capacity building on crime prevention, reporting and investigative techniques, crowd management and other relevant fields in accordance with International Policing Standards. UNAMID Police also trains CPVs and CSCs on Community Policing, Human Rights and SGBV. This encourages community ownership and partnership with GoS police in maintaining peace and security. The UNAMID Police component also coordinates closely with Sudanese Police with reference to gender by establishing Gender desks, Family and Child Protection Units in some of the Local Police Stations for better handling of SGBV cases and other criminal acts. The above is based on a Memorandum of Understanding (MoU) signed on 20 August 2013 between UNAMID police and Sudanese Police.
Furthermore, IDPs make humanitarian requests to IPOs during interactive patrols who collaborate with relevant UNAMID role players as well as UNCT and other humanitarian actors to facilitate these humanitarian needs. Through this way, many Quick Impact Projects (QIPs) have been implemented as well as various requests for food, medicine, blankets etc. have been addressed.
GENDER DIMENSION OF UNAMID POLICE
The UNAMID Police Gender Cell coordinates all gender-related activities of the UNAMID geographic sectors, collates information and sends it to the Police Gender Unit at MHQ. The Police Gender Cell coordinates gender-related work, such as training and sexual violence cases, with the civilian Gender Advisory Unit. The recruitment of women as child protection volunteers at the team sites has raised gender awareness at the community level.
UNAMID Police also collaborates with female GoS Police Officers to help them understand gender perspectives in their activities. They also support female GoS Police Officers in development and livelihood programmes.
EMPOWERING WOMEN: UNAMID Police in its mandate implementation, goes an extra mile in helping the Internally Displaced persons in Darfur, this is made manifest in the existence of UNAMID Police Women's Network (UPWN). Given UN Resolution 1325 (mainstreaming gender in peacekeeping amongst others) and considering the gender disparity and the need to involve women in the peace process, UPWN was formed. Its objective is to facilitate and contribute positively to Gender Mainstreaming in the Mission, focusing on establishing professional and social contacts with the GoS Police Women, the Network also addresses issues of women welfare, assists in building the capacity of the GoS Police Women and strive to further strengthen the bond between UNPOL and the host state. Female Police peacekeepers have established themselves as unique role models in UNAMID by sensitizing local women on various issues and teaching them livelihood skills.
---
Police Chronicles Issue 64 
December 2016
The Police Chronicle is produced by UNAMID's Police component to highlight the efforts of the Mission's police personnel.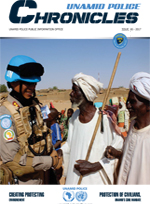 Police Chronicles Issue 65
Sep 2017
The Police Chronicle is produced by UNAMID's Police component to highlight the efforts of the Mission's police personnel.