Nestor Kinkela: My job is my passion, and my job is to be a UN Volunteer!
 My name is Nestor Kinkela and working as a UNV Heavy Duty Vehicle Technician is my dream come true. As a UN Volunteer assigned to the Transport Unit in the African Union - United Nations Mission in Darfur (UNAMID) I have been able to share my expertise in repairing heavy duty machines to support the Mission's mandate. My work is my passion.
Born and raised in the Democratic Republic of Congo, I grew up in a small and modest area around Kinshasa, the capital city. Early in my childhood, I developed admiration and curiosity towards mechanics and auto machines. I used to frequent my neighborhood's workshop and could spend hours just staring at the work in progress. I was so amazed by how everything could be fixed, and by the beauty and power of the engines, that right away I decided to pursue this career.
It was not easy in the beginning. Although I demonstrated enough qualities to succeed as a mechanic, my father was disappointed at me for not following his steps as a builder, and for this he decided not to contribute financially to my education. The first sacrifice I took to follow my dream was to sell my small motorcycle to pay for the full academic program in Vehicle Repair, but that money was not enough.
Looking for any kind of support to be able to become a professional mechanic, I went back to the very workshop I used to admire since I was a little boy and asked for a job.
 
Happily they received me as part of their team and this allowed me to complete my education. On 1979 I started an apprenticeship with one of the biggest airlines at that time in the DRC. Very quickly I made outstanding progress and were recruited before completing the six months of duration of the program. After this I had the opportunity to undertake several training courses in Europe, as part of the airline staff.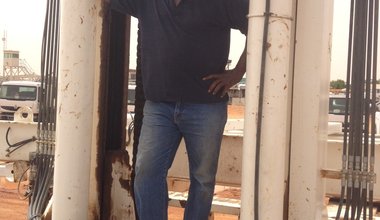 In July 2008 I arrived in Darfur. For almost four years I have been able to contribute to peace-building in this part of the world, keeping most of the El Fasher's (North Darfur) airport field equipment and special machines running to support the mission's daily operations.
During my assignment I have been able to participate in joint plans between UNAMID and the Government of Sudan to improve the safety and readiness of the aviation system, including Khartoum International Airport. This has been a privilege and a great experience and makes me think of how many people benefits from my services on a daily basis.
What I do has become a very special part of me. I cannot separate me and my job now; I think I might not recognize myself without my passion as a mechanic. This is the area I feel more comfortable with, and the ability to improvise and bring solutions is the key point of my enjoyment. I have been blessed as a UN Volunteer with the opportunity to offer my passion for the construction of peace in Darfur.
Story by Nestor Kinkela, UN Volunteer Heavy Duty Vehicle Technician
Photos by UNV Field Unit