30 May 12 - WFP worker released in South Darfur
30 May 2012 - Aid worker Patrick Noonan, who was working for the UN World Food Programme (WFP), was released today in Nyala, South Darfur, after 86 days in captivity. Mr. Noonan, a citizen of the United Kingdom, was abducted by armed men on 6 March 2012, along with a Sudanese driver who was freed later on the same day.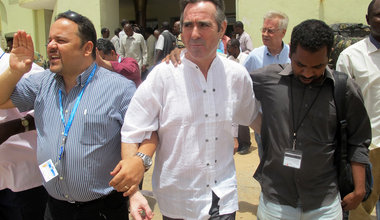 Patrick Noonan with his colleagues right after his release in Nyala (South Darfur). Photo by Kone Mouroulaye.
Mr. Noonan said in a press conference in Nyala that his captors didn't harm him; they gave him food, but he suffered from a shortage of water. He stated that he was allowed to contact his family during the captivity.
The African Union - United Nations Mission in Darfur (UNAMID) worked in close cooperation with WFP, the United Nation's Department of Safety and Security, Government of Sudan authorities and the embassy of the United Kingdom for the release of the hostage.