Darfur's University Students Look to the Future
While Darfur's universities have been struggling with resource shortages and aging infrastructure, they continue to serve as agents of peace, providing training for young people hoping to make a difference.
By Emadeldin Rijal and Sharon Lukunka
There are three main universities in Darfur: the University of El Fasher, the University of Nyala and the University of Zalingei. Each of these universities offers certificates and diplomas in two- and three-year programmes. They also offer Bachelors, Masters and Doctorate degrees in several fields.  Although there are some courses, in education and economics, for example, that all Darfur universities offer, each university has a unique speciality.

For example, the College of Medicine is specific to El Fasher University, the College of Agriculture is specific to the University of Zalingei and the Colleges of Veterinary Medicine and Engineering Science are specific to the University of Nyala. Through these postgraduate courses, Darfur universities provide opportunities for advanced research on the region's problems. While the postgraduate course offerings differ from one university to another, in nearly every program offered in the universities here, professors place emphasis on benefiting Darfur.

"The universities collaborate with various bodies, such as UN agencies, international organizations, UNAMID and Government institutions in implementing programmes and projects designed to benefit communities across the region," says Mr. Badreldin Ahmed, Dean of the College of Economics at the University of Zalingei.
[...]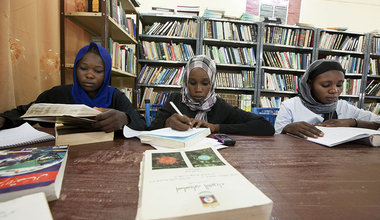 On 12 November 2012, in El Geneina, West Darfur, students study at the University of Zalingei. Photo by Albert González Farran, UNAMID.

Voices of Darfur - July 2013.pdf