13 July 2013 - UNAMID peacekeepers killed, injured in South Darfur ambush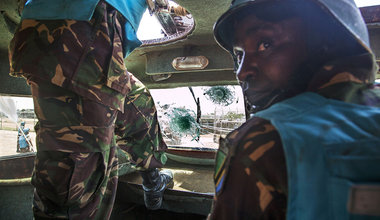 UNAMID peacekeepers, based in Khor Abeche, South Darfur, drive in one of the Armored Personnel Carriers that was damaged during the attack. Photo by Albert González Farran, UNAMID.
El Fasher, 13 July 2013 - On 13 July, a joint patrol of the African Union - United Nations Mission in Darfur (UNAMID) was ambushed in South Darfur.
The incident, which began at 9:00 hours, occurred approximately 25 kilometers west of the Mission's Khor Abeche team site.
The UNAMID team came under heavy fire from a large unidentified group. Following an extended firefight, the patrol was extracted by UNAMID reinforcements that arrived from the Mission's Khor Abeche and Manawashi team sites. Seven UNAMID military peacekeepers were killed and 17 military and Police personnel, among them two female Police Advisers, were wounded.
"The Mission condemns in the strongest possible terms those responsible for this heinous attack on our peacekeepers," said UNAMID Joint Special Representative Mohamed Ibn Chambas. "The perpetrators should be on notice that they will be pursued for this crime and gross violation of international humanitarian law."