UNAMID rehabilitates Government of Sudan Police Station in Kabkabiya, North Darfur
On 25 June 2015, the African Union-United Nations Mission in Darfur (UNAMID) handed over a rehabilitated boundary wall, toilet facilities and a veranda to the Kabkabiya Police Station authorities in the presence of the Acting Commissioner, Kabkabiya locality, community leaders and UNAMID staff. The rehabilitation was part of the Mission Quick Impact Projects (QIPs) programme.
Addressing the handover ceremony, UNAMID's Sector North Police Commander, Brigadier-General Mohammad Baki, stated that the Mission's contribution to such activities underscores its commitment to work together for sustainable peace in Darfur with the Government of Sudan (GoS) Police, local authorities and community leaders.
In his remarks on the occasion, The Acting Commissioner, Kabkabiya locality, Ismail Hussein, expressed his appreciation for UNAMID's support and said he believed that this project will enhance the capacity of the local police.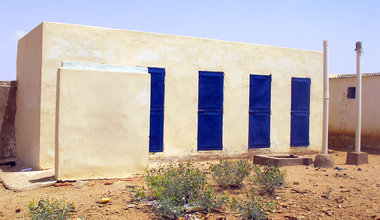 On his part, the Director of Kabkabiya Police Station, Colonel Taj Eltayeb, thanked the Mission for its continuous support and asked for the implementation of more supplementary projects aimed at improving water facilities and also requested training programmes for local police.
 
UNAMID's Police component regularly implements reform and reconstruction activities, in collaboration with its GoS Police counterparts; these include training programmes for local police authorities on community policing, crime management, investigation techniques, computer applications and English language classes.