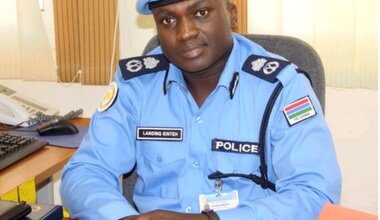 Gen. Landing Kinteh has about twenty years of experience in policing, with focus in law enforcement and general policing, policing and human rights, police leadership, management, and policing in a peace mission.
He served in various capacities within the Gambia Police Force, which includes, heading The Gambia Police Force as Inspector General of Police, Commissioner of Prosecutions and Legal Affairs, Regional Police Commissioner in multiple regions in The Gambia and Officer Commanding Airport Police Division.
Gen.  Kinteh was also the first Executive Director of National Agency Against Trafficking in Persons (NAATIP) whilst on secondment to the Ministry of Justice of The Gambia.
 In 2007, he served in The African Mission in Sudan (AMIS) where he was the Commander of Gambian contingent. in 2008, Mr. Kinteh served in various capacities in UNAMID, including chief of administration and personnel-Sector North amongst others. He also served UNAMID on secondment as Police Reforms and Restructuring Coordinator from 2013 to 2017.
 Gen. Kinteh qualified as a Barrister and Solicitor at the Gambia Law School; LLM International Human Rights Law at University of Essex UK; LLB (Combined Hons. Islamic & common Law) at Usman Dan Fodio University, Nigeria.
 He is married and has three children.