Performing for Peace: Mohamad Yusuf Andokai
Noted theatre artist Mohamed Yusuf Andokai speaks about his passion for solo acts, his views on theatre in Darfur and how performance art can play a pivotal role in ushering in positive social change.
By Emadeldin Rijal
Born in 1984, in El Geneina, the capital of West Darfur, Mohamed Andokai says his interest in the performing arts began at a very young age and continues till now. Following his childhood passion, he enrolled in the College for Music and Drama, Sudan University of Sciences and Technology, but could not complete his education on account of personal hardships. 
However, his commitment to his craft led him to pursue theatre professionally and, over the years, he has won awards and critical acclaim. One of his most noteworthy performances continues to be the solo act titled 'El Geneina: Between Past and Present,' which has gone on to win several prestigious awards. Additionally, Mr. Andokai has taken part in various cultural festivals across Darfur and Sudan.
In an interview with Voices of Darfur, Mr. Andokai shares his views on theatre art in Darfur and how performance artists across the region are working, through dramatization, to effect a positive social change. 
Voices of Darfur: Tell us how you started acting and taking theatre seriously.
Andokai:  My interest in theatre started in school. I was active in the school dramatics team and my teachers encouraged me greatly. In some time I found myself participating in theatrical activities in my locality. As soon as I started performing in public, I became a member of a new drama group comprised of young schoolchildren. Performing with this group strengthened my determination and motivation to become a theatre professional as well as convinced me that I could be a successful actor.
VoD: Did you ever perform alone when you were at school or were you always part of a team?
Andokai:  Yes, I often performed alone, even when I was in school. My teachers would often ask me to perform on any topic and I would present a show for a few minutes on my own, though I still enacted roles with others in the dramatics team. 
VoD: In your opinion, what does a solo act require to be successful and connect with the audience?
Andokai: Any performer who goes onstage with a solo act has to be completely focused and possess a high degree of concentration so as to engage the audience fully from the beginning of the performance. Also, I feel, one-man acts require more practice than a group performance.
VoD: How did you develop your skills in solo performances?
Andokai:  A one-man act has always been my biggest challenge and also the area of performance art that interests me the most. I have received advice and instruction on performing solo from numerous experienced theatre directors, which has helped me to progress and evolve. I also watch and read about different performers, both from Sudan and other countries, to gain knowledge and enhance my own craft. In addition to this, I ensure I have enough rehearsal time so that that I am fully prepared. But, above all, my moral courage enables me to break the ice and reach out, interact immediately with the audience. 
VoD: Words and dialogue are powerful tools in performing arts. How do you incorporate this aspect into your act? 
Andokai:  I have benefited a lot from the rich cultural heritage of Darfur while performing on stage. For instance, I use the common indigenous language to convey the essence of my act to every member of the audience. I also use traditional accessories to enhance the spoken word during my shows.
VoD: Do you feel that solo acts are increasingly becoming more popular in Darfur? 
Andokai:  As a matter of fact, one-person theatre is common in Darfur. However, its success depends heavily on an effective performance and the strength of the messages conveyed. It is also a quick, instant form of reaching out to a live audience. The advantage of a solo act is that it is less expensive than other forms of theatre.
VoD: What, according to you, are some of the biggest challenges you face as a theatre artist? How do you deal with them? 
Andokai: One of the biggest challenges theatre artists across Darfur face is lack of support and the volatile security situation. I cannot perform freely in public unless I am assured it is safe. The prevailing insecurity also makes it difficult for us to travel and propagate our craft to wider audiences in Darfur as well as in the federal capital, Khartoum. Also, theatres in Darfur mostly lack basic infrastructure such as wireless mikes and loudspeakers.  
However, because I feel passionately about the messages I wish to convey to the audience, I sometimes work on a voluntary basis with humanitarian organizations. These organizations have been very supportive in facilitating me and my team members to take our messages to a cross-section of the local communities. 
VoD: Tell us a bit about the core messages you choose to convey through drama.
Andokai:  Most of our performances deal with some of the contemporary issues faced by Darfuris, such as ethnic violence and the violence against women as well as the importance of education. We also have presented shows that sensitize communities about harmful practices such as female genital mutilation.
VoD:  Could you tell us about some of the cultural festivals you have participated in and the awards you have received? 
Andokai:  I have been regularly participating in global ceremonies such as International Women's Day and World AIDS Day. Other notable festivals I have been part of at the local and national level include the Sudan Cultural Nights in 2012 and the Sudan Youth Cultural Festival in 2013. Both events were held in Khartoum. On both these occasions, I was singled out among other performers and received awards for Best Actor and Best Performance from the Federal Ministry of Culture. I also won similar awards at Sudan's first Festivity of Interactive Theatre in 2012. At the local level, I received an award for Best Performance in the Dar Andoka Cultural Festival held in El Geneina in 2009.
VoD: How has winning these awards impacted your career?
Andokai: I am very proud to have won these awards and, I believe, they motivate me to achieve greater heights and work harder to perform better. 
VoD: How do you view theatre in Darfur in current times? 
Andokai:  Darfur has a great wealth of young talent when it comes to theatre and drama.  Despite the scarcity of resources and lack of support, theatre artists across the region have been working toward contributing to community awareness through their craft. The same is true of theatre professionals in other parts of Sudan. For example, I represented West Darfur on many occasions in Khartoum and other places across the country and have successfully managed to engage various audiences.  Similarly, other artists have also been making their mark. However, theatre, as an art form, needs more support in order to enhance the vital role it can play in Darfuri society.
VoD: What are your opinions regarding the ongoing peace process here?
Andokai:  Peace is a shared responsibility and a process that starts at the grassroots level. 
To pave the way for peace, we need to renounce violence. Darfur has long suffered from the effects of the devastating conflicts triggered by ignorance; these clashes must stop to usher in reconstruction and development. I take this opportunity to call on those who are involved in the conflict, either directly or indirectly, to embrace dialogue as a genuine vehicle for peace and stability in the region.
VoD: What are your personal hopes and aspirations for the future?
Andokai:  I hope, through my performances, to contribute in a small way to peace in Darfur. On the personal front, I would like to become an internationally known theatre personality. Therefore, I am keen to resume formal studies at the College for Music and Drama. I would also like to establish a foundation for performing arts and development. The foundation, which is already underway, will focus on delivering messages to help strengthen the social fabric in Darfur and raise awareness about issues related to health, education and environment.
VoD: Do you have any message for the people of Darfur?
Andokai:
The more we continue to fight each other, the more we have divisions. I would like to exhort the people of Darfur to embrace tolerance and forgiveness to put the long years of conflict behind them.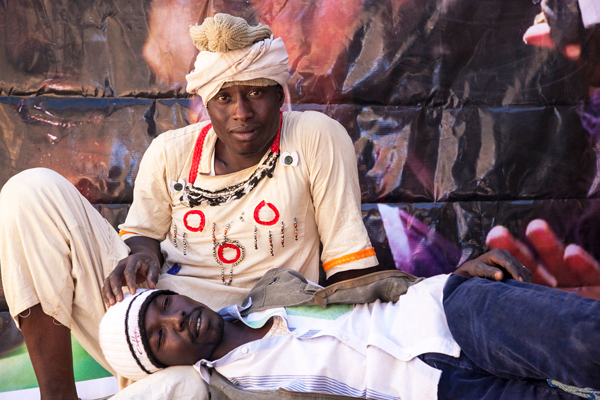 Download the PDF here.