Darfur's Peace Chants: An Interview with Mahasin Osman Altahir
In an interview conducted in El Fasher, Voices of Darfur talked with Mahasin Osman Altahir, a well-known Hakama, who chants for peace, peaceful coexistence and reconstruction in Darfur.
By Emadeldin Rijal
Hakamas are traditional female singers dedicated to drawing attention to social, political and economic issues in their communities. Through their lyrical songs, purposefully crafted poems and improvised words, the Hakamas praise the sacrifices of their ancestors and draw attention to the successes of their clans. 
As singing poets, they wield influence over the members of their tribes by weaving positive principles and values into the social fabric of their communities. The influence of the Hakamas is not just on their local communities. They work their magic on all levels of society, especially at social events and cultural gatherings, channeling the collective joy and sorrow of those around them. 
In Darfur, the Hakamas have a reputation that is not unlike powerful political figures, in that they are able to destroy personal reputations in an instant and drive men to fight wars. At the same time, they are known for being able to help avert community conflicts and disputes by exerting their influence in solving complex social problems. While most Hakamas are illiterate, they possess a deep knowledge of local history and a poetic talent for generating broad interest in social justice.
Voices of Darfur talked with Mahasin Osman Altahir, a well-known El Fasher Hakama, about the impact of the Hakamas and their role in peace and peaceful coexistence. Ms. Altahir, a woman of 40, was born and grew up in the Buram area of South Darfur. She spent her early life as a member of a nomadic community, traveling from a place to place in and around Darfur, but now resides in El Fasher, the capital of North Darfur.
Voices of Darfur: Could you tell us about when and how did you become a Hakama?
Altahir: I can recall the fact that when I was still around the age of 10, I used to attend routine social gatherings that brought together Hakamas and different members of society. Despite the tasks assigned to me during those gatherings, where I had to serve the Hakamas tea, I was dedicating myself to listening attentively to the songs and poems recited by them. 
At that time, I felt like I would love to be a Hakama one day. So the idea of becoming a Hakama kept growing out of my regular attendance at these gatherings. By the time I was 13, I was singing and chanting with several Hakamas. At one point, we had to present songs and poems as part of our leader's inauguration festivities. People were worried about whether I would have the ability to take part in the celebration. However, when I got on the floor, my performance, more or less, stimulated the crowd to cheer me.
At the end of the day, I was given a calf as a gift by our leader himself. Since then, I have been acting as a Hakama. That ceremony was the beginning for me and was a showcase for my personal abilities.
[…]
Read the full story in the March issue of Voices of Darfur. Download the magazine (PDF) here.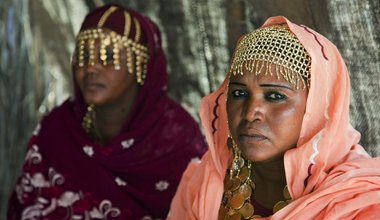 On 24 February 2013 in El Fasher, North Darfur, Fatima Abdullah Khalil (left) and Mahasin Osman Altahir (right), pose for a photo. They are hakamas, women who wield significant social influence through chanting poetry and song. Photo by Sojoud Elgarrai, UNAMID.

VoicesofDarfurMarch13_web.pdf