5 Dec 13 - UNAMID celebrates 16 Days of Activism against Gender Violence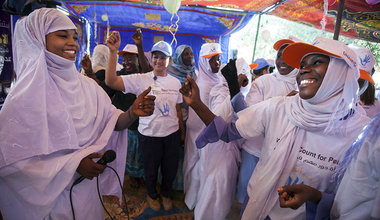 Local singer Ikram Idris (left) performs for the audience during the event. Photo by Albert González Farran
El Fasher, 5 December 2013 – More than 500 women, men and schoolgirls participated in an event in El Fasher, North Darfur, to mark of the annual 16 Days of Activism against Gender Violence campaign. The celebration, organized by the African Union-United Nations Mission in Darfur (UNAMID) in collaboration with the North Darfur Committee for Elimination of Violence against Women, was held on 5 December under the theme "Together We Protect Women Against Violence."
The event began with a march of solidarity through El Fasher town and continued with a drama presentation, music performances and poetic recitals to draw attention to women's rights.
UNAMID Joint Special Representative Mohamed Ibn Chambas highlighted the importance of ending gender-based violence. "You can continue to count on our full cooperation in fighting violence against women and in finding a political resolution to ensure a lasting peace in Darfur," he said. Dr. Chambas called for more cooperation with all Darfuri components, including the Native Administration, for the sake of peaceful co-existence and reconciliation.
The North Darfur Governor's Advisor on Women and Children Affairs, Ms. Halima Tibin, and the Minister of Social Affairs, Mr. Khalil Adam, drew attention to the challenges women have faced through history and confirmed the commitment of their offices to empowering women socially, economically and politically.
The Acting Wali (Governor) of North Darfur, Mr. Al-Fatih Abdul Aziz, noted that women are the most affected by poverty and war and praised the collaboration between the local Government and UNAMID.
The 16 Days of Activism is a global campaign that starts every year on 25 November (International Day to End Violence against Women) and ends on 10 December (Human Rights Day) to combat violence against women.
As part of the campaign, on 2 and 3 December, UNAMID organized a workshop for members of the North Darfur Gender-Based Violence (GBV) Committee to set up a work-plan for 2014. During the course of the workshop, facilitated by UNAMID's Gender Advisory Unit in collaboration with the State Ministry of Social Affairs and the North Darfur GBV Committee, the participants discussed gender concepts and the existing measures and mechanisms for mitigating and responding to violence against women. In addition to this, the participants discussed the most common issues related to violence against women across North Darfur.