23 Sep 2012 - UNAMID workshop raises awareness of children in armed conflict
The African Union - United Nations Mission in Darfur (UNAMID), continuing its efforts to prevent the use of children in armed movements, conducted a workshop on 20 September in El Fasher, North Darfur, for more than 50 field commanders of the Liberation and Justice Movement (LJM).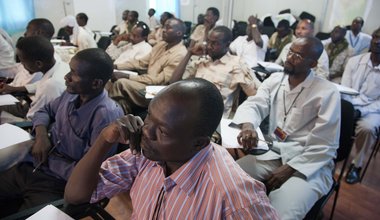 Field Commanders of the Liberation and Justice Movement participate in a UNAMID Child Protection workshop in El Fasher. Photo by Sojoud Elgarrai.
UNAMID held the one-day workshop to discuss children in armed conflicts and determine concrete steps to implement the formal action plan submitted by LJM to the United Nations on 10 May 2012. The signed plan indicates the Movement's commitment not to recruit or use child soldiers.
"This kind of workshop comes as an important step to educate and enlighten LJM's field commanders about the national laws and international conventions that prohibit the involvement of children in armed conflicts," said Colonel Abdul Salam Kateer, the LJM child protection focal point, in an interview. "Our children in Darfur have already suffered a lot during this war, and they deserve a better future."
UNAMID's Child Protection personnel are planning to conduct similar workshops for LJM members in Nyala, Zalingei and El Geneina. "In addition to the scheduled workshops across Darfur, we are planning to hold train-the-trainer workshops, which will be focused on giving LJM's members the information they need to continue to raise awareness about these issues on their own," said Charles Fomunyam, UNAMID Child Protection Officer. "The train-the-trainers workshop will be organized in collaboration with other child-protection stakeholders."
In resolution 2068 (2012), the Security Council on 19 September demanded that parties to armed conflict immediately halt the use and abuse of children and to take special measures to protect children. The Council expressed concern that certain perpetrators "persist in committing violations and abuses against children in situations of armed conflict in open disregard of the resolutions on the matter."
The UN Secretary-General's latest report on children and armed conflict, released in June, named 52 parties on its "list of shame" of those who recruit and use children.